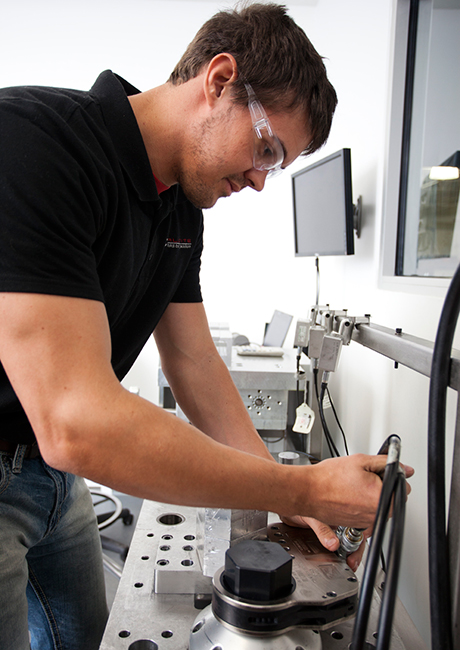 The X Driver is supported by Alltite with authorized repair facilities at our headquarters in Wichita, KS. We pride ourselves on providing optional 24-hour turnaround on repair, estimates and calibrations. Repairs requiring special order parts take longer, but most repairs are completed within 48 hours of receipt of your purchase order. Once repaired, all equipment is duty-cycled under load in our proprietary testing facility and tagged when ready for service.
Alltite supports:
Hydraulic pumps, tensioners and cylinders
Impact wrenches
Air tools
Manual "clicker," beam and dial torque wrenches
Torque multipliers
Calibration Services
Alltite and MobileCal's in-house calibration laboratories are ready to service all your X Driver Hydraulic Torque Wrench System needs. Our laboratories are meticulously stocked, maintained and staffed by calibration personnel with extensive tool-specific and hydraulic torque wrench training. Our goal is to clean, test, repair and calibrate your tools in less than 24 hours, making our turnaround the fastest in the industry. We also offer flexible service locations in our accredited A2LA facility or at your plant.
Alltite calibrates:
The X Driver Hydraulic Torque Wrench System
Low-profile hydraulic torque wrenches up to 5-3/8" or 25,000 Ft-Lb
Torque multipliers up to 10,000 Ft-Lb
Torque testing equipment
Bolt-load testing equipment
While-you-wait tool cleaning, testing and calibration
Tool Rental
Rent it like you own it
The only thing better than owning an X Driver System is renting one. Renting gives you the peace-of-mind knowing your hydraulic wrench system is always calibrated and maintained so you can focus on what's important, getting more work done in the field.